Downtown Avalon Park Wesley Chapel
Harken back to earlier times when work and life were more intertwined. When nine to five meant supper at six and sunset on the porch. Do you dream of living where you work and working where you play? Then bring your business home to Avalon Park Wesley Chapel.
The distinctive small-town flavor and the convenience of downtown living merge in downtown Avalon Park Wesley Chapel to create the perfect place to spend an hour or the entire day. Downtown Avalon Park Wesley Chapel will bring conveniences like dining, shopping, schools, grocery stores, and your neighborhood doctor within a short walk or bike ride of your home.
In our town, there's room for every entrepreneur—storefronts, shops, and office bays downtown, as well as rent-by-the-day workspace for home-based businesses. There are schools and medical centers where neighbors work. There's a local Marketplace where chefs serve, and musicians play; a commissary kitchen where makers create; and a General Store where artisans share their wares. And all of it lies along the sidewalks of our picturesque town.
Best of all, Avalon Park Wesley has complimentary advertising and marketing services for our neighborhood businesses, helping you build relationships with the residents in our neighborhood and beyond.
Whatever you need, make your business the talk of the town in one of Central Florida's fastest-growing areas.  For more information on leasing space in Downtown Avalon Park Wesley Chapel, fill out the interest form below.
Commercial Interest List Nye Commercial Package Virtual Tour
Virtual Tour – Click Start Tour to Begin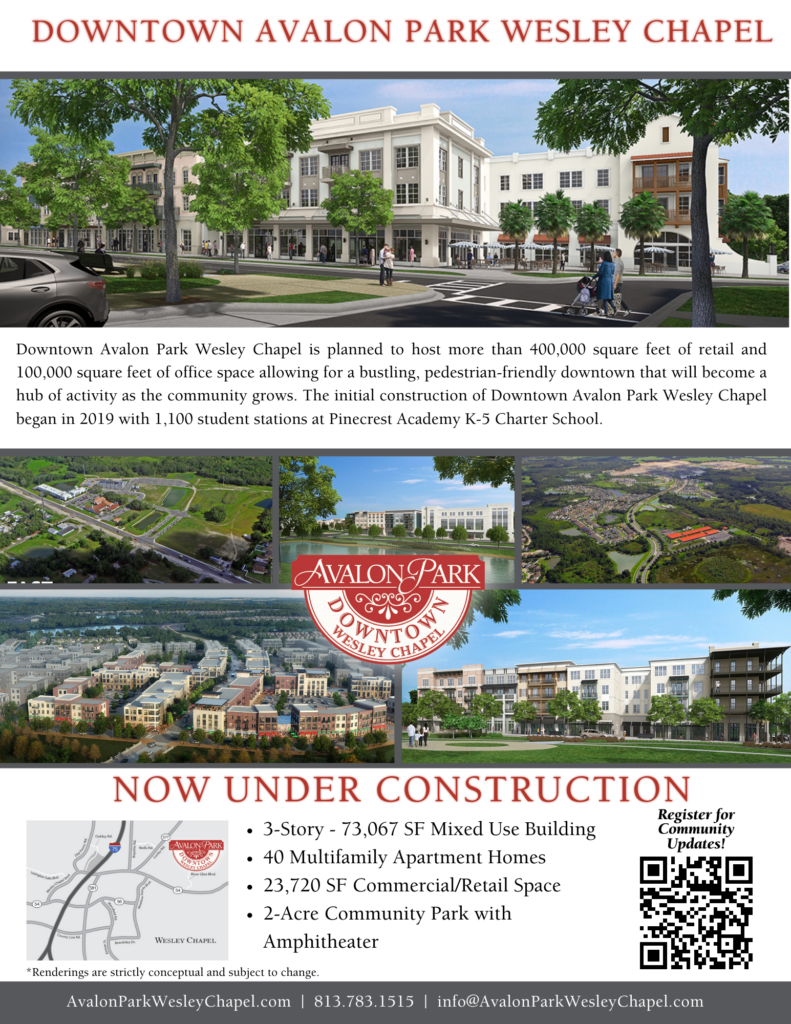 Avalon Park Orlando
See the vision from our sister community, Avalon Park Orlando, that inspires the development of Avalon Park Wesley Chapel.
The Vision for Avalon Park Wesley Chapel stems from our accomplisments in our sister and Flagship Community, Avalon Park Orlando.