By:  Kristin Muslin
Marketing and Events Coorindator, Avalon Park Wesley Chapel
Today we're bringing you everything that's left for you to get in gear for the school year!  Sit back and enjoy the last weeks of official summer, because we've done all the digging around for you and gathered it all together for you in this post-you'll find healthy recipes for packed lunches, after school programs, places to still grab some FREE school gear, local football schedule, and more!
1.  Back to school supplies are expensive! As we all know, this time of year can be quite hard on those who are already strapped for cash. Maybe you or someone you know has gotten most school supplies together, but are just missing a few things. If you know of someone in need of a back pack, hair cuts, clothes, whatever- this place has it. Information below:
Back to School Backpack Giveaway: 8:10 a.m., 9:45 a.m. and 11:20 a.m. Aug. 21 at Calvary Chapel Worship Center, 6825 Trouble Creek Road, New Port Richey. Free backpacks, school supplies, games, prizes, free haircuts, gently used clothing and more. Register online at ccwc.org or call Andrea Wolloff at (727) 376-7733, ext. 120, for information.
http://www.tampabay.com/news/education/k12/pasco-county-school-supply-drives-and-giveaways-scheduled/1183214
2. Alright Wesley Chapel parents! So you've got the kiddo(s) ready for school- but if you're looking to find what's available locally for them to engage in after school- this next one's for you. Below, we've compiled a list of some really cool, really close programs in Wesley Chapel:
The program with a little bit of everything:
The Kids 'R' Kids Difference | Child Care Center in Wesley Chapel, FL With a wealth of activities – supervised and carefully selected – your child will find the experience of Kids 'R' Kids' before and after school program to be an exciting adventure. Our highly skilled teachers exceed traditional child care center standards, and bring experience and exceptional passion to their teaching. Our after school program in Wesley Chapel is meant to inspire all ages of children, setting the groundwork for a lifetime of learning outside of school. Their after school program includes zones and centers designed to be fun and educational:
The Discovery Zone – Earth science and the environment
The Nova Zone – Artistic expression and performance
The Open Air Zone – Trivia and games to expand the mind
The Construction Zone – Hobbies like cooking, crafts, and a wealth of opportunity to work with the hands
The Media Center – Bringing technology learning into the classroom
If you'd like to learn more about the Kids 'R' Kids after school program in Wesley Chapel, Florida contact your nearest center today. There's actually two in Wesley Chapel:
Kids 'R' Kids
Anitha Thomas
1540 Mansfield Blvd.
website
(813) 994-4525
awards
map
Kids 'R' Kids
Bimal Bhojani
30100 Overpass Road
website
(813) 355-4824
awards
map
Wanting something a little more specific? Try these out:
After School Music Lessons: http://www.bigelmusic.com/
Karate: http://wesleychapelkarate.com/about_us.html
Sports: http://www.protentialsports.com/
Song and Dance Classes: http://www.songanddanceinc.com/
Discovery Point After School: http://sevenoaks.discoverypoint.com/programs/school-age/
After School Enrichment Classes: http://www.bricks4kidz.com/florida-tampa-wesleychapel/program-events/after-school-programs/
Creative World Preschool: http://www.creativeworldschool.com/preschool-tampa-wesley-chapel/index.php
Looking for something on the cheap? The local Library has tons of weekly programs for all ages. Calendar here: http://evanced.info/pasco/evanced/eventcalendar.asp
3. It's lunch time! You know your kids don't want that nasty cafeteria food! Not only is it unappetizing, it's also really unhealthy. So, you know that- but maybe the problem is you're already fighting for time in the mornings?- we've found a nifty little chart that you can print out for your kids, so they can pack themselves a lunch! Not so comfortable putting the responsibilities on the little ones yet?  We've got a few fast and simple lunch ideas for you too! It is still totally worth it to check out the chart though, if you aren't comfortable having the kids make their lunch, you'll at least be able to use it to find out what they'd like to eat from each food group, so they'll still get a balanced meal they like enough to not trade out for a piece of candy corn.
You can find the chart below, and the creator's blog Here: http://www.superhealthykids.com/blog-posts/school-lunch-supplies-for-healthy-lunches-plus-250-giveaway.php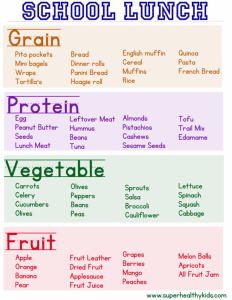 Recipe Time! This next bit we've borrowed from an awesome blogger named Amy Flanigan who is so funny, but also kind enough to share her recipes that are tried and true, and ones she's borrowed from others as well:
Let's face it, while these lunchbox ideas are crazy adorable, who the heck has time to prep them? I mean, really? DO YOU? 'Cause if you do, I want to trade lives. Right now.
And if I could draw worth a lick, I might be able to pull off this awesome sandwich bag art. But I can't. So I don't.
Let's keep it real, shall we?
Here are a few simple ideas – maybe you've thought of, maybe you haven't :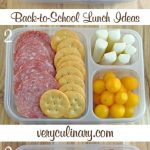 If you're digging these ideas, by all means, check her blog out here!: http://veryculinary.com/2013/08/07/back-to-school-lunchbox/
Not finding what you're looking for? Not to worry, our Pinterest has a TON of different options: https://www.pinterest.com/avalonparkwesleychapel/back-to-school/
The first high school football game is just around the corner! Bring the family out for a game- don't forget to wear white and blue!
Wesley Chapel High School Football Schedule:
Coach: Tico Hernandez (second season, 0-10)
Stadium: Wildcat Stadium, 30651 Wells Road, Wesley Chapel
Season schedule
Aug. 29at Zephyrhills, 7:30
Sept. 5vs. Lecanto, 7:30
Sept. 12vs. Pasco, 7:30
Sept. 19at Hudson, 7:30
Oct. 3vs. Ridgewood, 7:30
Oct. 10vs. Sunlake, 7:30
Oct. 17at River Ridge, 7:30
Oct. 24vs. Anclote, 7:30
Oct. 31vs. Gulf, 7:30
Nov. 7at Wiregrass Ranch, 7:30
Mark your calendar
Wesley Chapel at Wiregrass Ranch, Nov. 7: The regular-season finale between the bitter rivals will have a little more meaning this season. After dominating Wiregrass Ranch by a combined 139-52 in each of their six previous meetings, the Wildcats lost to the Bulls last season by two touchdowns to complete the first winless season in the program's 14-year history. It may be a difficult task to topple Wiregrass on the road, but Wesley Chapel will be hungry for revenge
http://www.tampabay.com/hometeam/blog/wesley-chapel-2014-football-preview/20717/
Alright guys, that's all we have for you today- in the meantime, hop on over to our other social media outlets for more great updates!
https://www.facebook.com/AvalonParkWesleyChapel
http://www.pinterest.com/avalonparkwest/back-to-school/